DIY Pool Features
Paradise Pools have used over 45 years of experience in designing, manufacturing and building swimming pools in Australia to produce a pool suitable for all Australian conditions – above ground, inground and semi-inground, and all forms of sanitising, including salt and minerals.
Built with interlocking H5 pressure treated timber and Marine grade 316 stainless steel – so it cannot rust, and the level of treatment used on the timber provides an unbeatable 50 year pro-rata warranty*.

Get the Look,
without the Expense
A very budget friendly option for people who don't want the huge expense of building an inground concrete or fiberglass pool, but want a much better looking and performing swimming pool than the traditional above ground pool with metal walls.
No need to Build a Retaining Wall, the Pool is
your Retaining Wall
Have an unusable sloping yard? Paradise Pools has the answer. Whilst building a concrete pool or installing a fiberglass pool above the ground is extremely expensive or will require expensive retaining walls to be built, every Paradise Pool can be built up to 1m above ground, semi-inground or fully inground and are perfect on a sloping site. Built very similarly to a retaining wall, this pool will save you thousands on the cost of building a retaining wall – the pool is your retaining wall!
Suits all Looks
Our strong 140mm wide timber coping acts as the last joist in your decking, this enables you to lay your deck over the top of the pool coping! Or you can even lay tiles or pavers around the coping – inground or above ground!
Decking over the Coping
Keep your DIY pool simple and stylish with timber or composite decking around part or all of the pool.
Paving
Step up your DIY pool with tiling or paving around your pool coping – suits inground, above ground or semi-inground.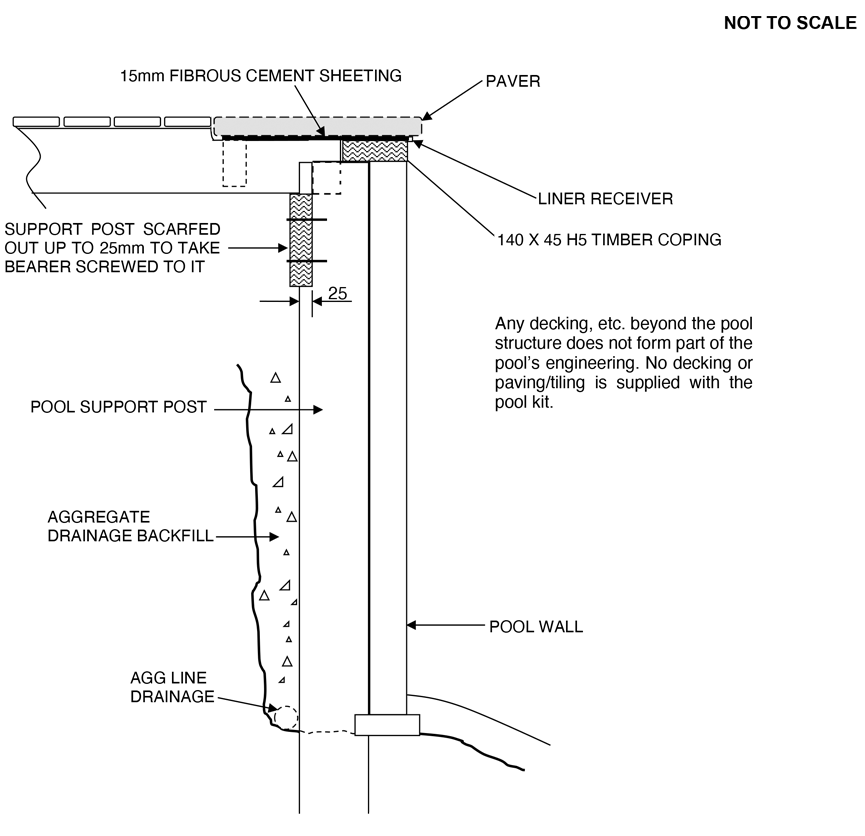 There are 6 changes to the pool to facilitate this option including changes to the skimmer, steps, stainless steel, etc., etc. Please contact us for more detailed information about this option, including concreting around the pool to continue on the paving or using this option with decking to provide a sleek minimalist deck over a concealed/hidden coping.
Decking and Paving
Go resort style with your DIY pool and combine paving and decking!
Don't want Decking all the way around?
If you only want to lay decking around 1, 2 or 3 sides of your pool, then you can finish off your pool surrounds and give it a uniform finish with just a couple of rows of decking timber or even a single row of pavers over the coping to provide a beautiful and professional looking finish.
Straight Walls
The Paradise Pool looks totally different to the traditional above ground pool – it does not have any of the tell-tale scalloping down the walls of the pool. Our rectangle pools have perfect strong straight walls, whilst our oval and teardrop shaped pools have beautiful smooth flowing walls.
Any size
From small plunge pools to lap pools or big commercial swim school pools, our rectangle range of DIY swimming pools can be custom designed to suit any requirements – we have no limitations in size.
Built-In Steps
No plastic ladders or ugly, bulky plastic steps to weight down. These steps not only make the pool super easy to access, but they look amazing. In our rectangle pools, the steps are positioned diagonally across the corner of the pool, the bottom step is approximately 2m across and the top step is approximately 1m across. The steps are set in their size, but you can position them in any corner. The strength and stability of the built-in steps are great for older people, they make a beautiful spot to sit and relax and are a perfect place for little ones to gain their confidence.
Strength
The pools' unmatched strength not only gives you peace of mind for years of enjoyment without fear of the pool rusting but also provides enough strength to enable you to install the pool fully inground (backfilled with simple drainage aggregate) or up to 1090mm above ground – great on a sloping site where one side works as the retaining wall and the other side is above ground. Unlike other pools, it also means a Paradise Pool can support your deck, allowing you to lay your decking boards or tiles/pavers straight onto our pool's top coping!
Difficult Access
Transported around Australia in pallet form, the components can be easily carried onto site via narrow pathways, or some people with no access at all have even carried all of the pool parts through their house to their site!
Insulation
80mm thick timber and internal hollow core poly wall sheeting provides far superior insulation compared to any other type of pool – holds onto the summer's warmth at the end of the season and greatly increases the effects of any form of pool heating. This means that you will be using your pool for longer throughout the year and any heating costs will be significantly reduced!
Fitting the Lining
For over 45 years Paradise Pools has used a liner receiver track system which consists or a small 'C' shaped receiver section underneath the lip of the top coping, combined with a beaded lining. This means there is a small 'arrow head' welded to the top of the lining that locks it into the receiver. We then use a vacuum port located at the base of the pool wall to attach your vacuum cleaner and vacuum fit the lining to the pool to ensure a perfect fit.
Deep end
Unlike other above ground pools, the Paradise Pool does not use a hopper style floor and has no channels that run under the deep end, making it super simple, DIY friendly and very easy to dig. The wall height remains the same all the way around the pool and the deep end is formed by simply digging a bowl into the ground at one end.
Cannot rust
No metal walls or folded sheet metal tracks and pressure plates - means NO RUST. Overflow, groundwater and the splash out that runs over the side of our pool walls won't affect or rust the pool!
Cannot rot
We cut and machine the timber before pressure treating it to H5 levels. H5 is the same treatment as provided to telegraph poles. This treatment is warranted for 50 years pro-rata!
Easy to DIY install
DIY flat pack kit, specifically designed for installation by the average home handy-person (anyone capable of building a deck or retaining wall) and classified as a demountable pool also allows for DIY installation in the ACT. Our step by step instruction manual with colour photographs combined with our pre-cut, pre-routed, pre-mitred and pre-drilled components means the pool simply fits together on site - even all the wall fittings are pre-fitted in the wall logs for you!
Safer skimming
Skimmer boxes are one of the most important parts of a pool. Our Astral skimmer has one of the largest leaf baskets available, reducing the frequency of cleaning.
Complies to water recirculation requirements in all states (inc. S.A.) Australian standards AS 192.3-2010
Large diameter 336mm inground pool design – not small 150-270mm size
Twist lock - basket, vacuum plate and deck lid - compliant with safety standards
Easy to install skimmer box, slots straight into the pre-cut wall section
Extra deep bowl reduces chance of vortex for noise and premature wear to pump
Designed and manufactured in Australia from Australian compounded UV stabilised High impact ABS plastic - 100% Reliable Single piece construction, with no glue joints that can leak
Pool Overflow
Our super large skimmer boxes are also fitted with the ability to connect a pipe to take overflow water away, this saves you emptying water out of the pool after a lot of rain and means your pool will never overflow.
All Forms of Sanitising
Saltwater, Magnesium minerals or any other form of sanitising can be used on the Paradise Pool because they cannot rust.
Help with DIY building Approvals
We provide you with the engineering plans and certification for your building application. We can also provide you with a sample site plan to illustrate what you need to show on your site plan which may be simply hand drawn to save costs. We are happy to assist with any questions relative to your building application.
Liner Replacement
Since 1975 Paradise Pools has used a liner receiver track system which is specifically designed to enable easy removal and replacement of your pool lining without disturbing any of your pools coping, decking or paving. This is quite normal in the 'inground pool world', but it's not usually available in the 'aboveground pool world.
Designed to suit your needs
Whether you want a pool to simply cool off in, a pool that will outlast the others, you need a pool that will work on a difficult site, you have difficult access, or you just want something that looks like it cost you a lot more than it actually did, the Paradise Pool is the answer! With many options available like built-in steps, LED underwater lighting, etc. that you would only expect to have in much more expensive swimming pools, you can design a pool to suit all of your requirements and budget.
Modest or Magnificent
With a Paradise Pool, you can keep it simple and so user friendly by laying decking straight over the top of the pool's timber coping. Or you can go 'all out' and dress to impress by laying pavers or tiles over the pool coping to make your pool look just like a much more expensive inground pool. There is no difference at all to the installation of the pool itself, just opt for the coping to suit pavers. This ability to suit simple or amazing allows you to finish your pool in any way you want, the only limit is your imagination!
So what's the breakdown?
Unique rectangle shape
Cannot rust
Superior strength
Pool structure acts as a retaining wall
Decking sits directly on your pool coping
Deck, pave or tile over the pool coping
Beautiful built in steps
Looks just like an ingound pool at fraction of the price
With basic 'handyman' capabilities you can put together an amazing looking pool in your own backyard